Your Source for All Types of Vehicle Graphics
Contact Us Today for a No-Obligation Quote
Custom Vehicle Wraps
Vehicle graphics allow you to advertise on the go! What better way to inform your potential customers about your company? Vehicle signage is an excellent way to improve brand recognition, particularly for businesses that deliver or service homes, such as plumbing, electrical, and construction services. Large businesses will often get entire fleet vehicle wraps for maximum branding exposure.

Custom vehicle wrapping in Saskatoon can turn your business vehicle, car, or truck into a mobile billboard. Car vinyl wraps have the highest ROI when compared to other forms of advertising because they can market your company 24 hours a day, seven days a week. Whether your vehicle or car is parked or on the road, passersby will notice you and remember your brand's name and logo. Here at Saskatoon Sign Company we custom design your vehicle or truck wraps to complement your brand and skillfully install them on any type of vehicle.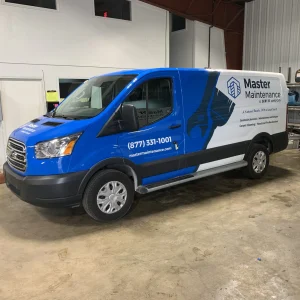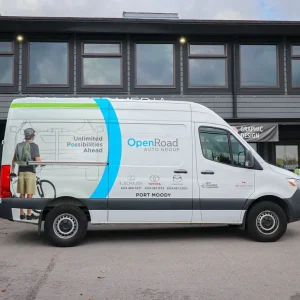 What is a Vehicle Wrap?
A vehicle wrap is essentially a sign that is applied to the outside of a car, truck, van, or trailer. Wraps are similar to vehicle decals, but there is one major difference. Unlike individual decals, which are applied as stickers, an auto wrap covers a significant or entire portion of the vehicle. This allows much more space for vehicle branding and creative design. We've all seen van graphics with some lettering indicating basic information about a business. Compare this to a fully custom designed and wrapped vehicle, it's easy to see which one is more impressive. We use brand name 3m and Avery Dennison vehicle vinyl wrap material to ensure the highest quality and conformability to your vehicle.
Benefits of Getting a Vehicle Wrap
One of the best aspects of investing in vehicle wraps is that they are long lasting. Unlike other forms of advertising, you do not need to continue investing in them to keep the promotion running. Furthermore, once installed, they begin generating impressions from the first day, and this continues 365 days a year, even when the vehicle is parked.

Vehicle wraps also add a layer of protection to the vehicle, shielding the original body paint from minor scratches, harsh weather, and minor dents.

Vehicle wraps are an excellent choice for a brand seeking consistency. Customers form opinions based on the quality of the wrap and the messages printed on it. High-quality wraps demonstrate that a company values quality and can be trusted.
The Types of Commercial Vehicle Wraps Available to You
Vinyl lettering and decals. For basic vehicle lettering, cut vinyl decals are used. Your company name, email, phone number, and website could all be included on these decals. Vinyl lettering and truck decals are applied to the visible panels of your vehicle, which are typically the side and rear panels. Car window decals are a cost effective and simple way to promote your company's logo and contact information.
Partial Vehicle Wraps. This type of car wrap, as the name implies, covers only a portion of a vehicle, albeit a significant portion. A partial auto wrap, as opposed to an auto decal, may cover the entire back half of a vehicle, including the passenger and rear windows.
Full Vehicle Wraps. Full vehicle wraps completely cover a vehicle. This enables them to display large images and fonts as well as unique artwork, which is especially stunning if you have a large vehicle, such as a commercial trailer or a box truck.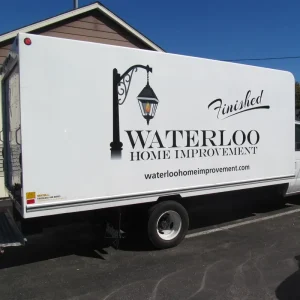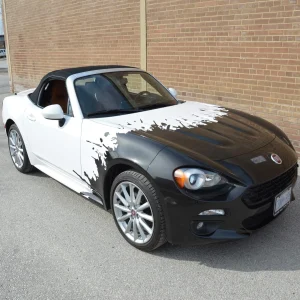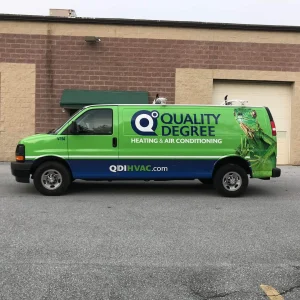 Vehicle Wrap FAQ
Work with the Best Vehicle Wrap Installers
We are your go-to company for commercial car wraps in Saskatoon. Our new car vinyl wraps are ideal for highlighting your commercial fleet and making it stand out on the roads. Your vehicles will look professional and help develop brand awareness for your business with our high-quality car wraps. A commercial vehicle wrap has numerous advantages, including advertising your company's services, marketing locations, and showcasing products. Trust us for your next car, truck branding or even boat graphics project.