Your Source for All Types of Custom Wall Art
Contact Us Today for a No-Obligation Quote
Wall Graphics and Wall Mural Printing
The power of wall graphics can help Saskatoon businesses improve their brand awareness, customer engagement, and employee morale. Changing the look of the walls is a very powerful way to attract attention, which can increase customer curiosity and boost sales. Wall surfaces can be covered with custom wall graphics to highlight a particular marketing initiative, inspire staff members with motivational sayings, or share your company's history with customers to strengthen brand loyalty. Simply put, there is no excuse not to use distinctive vinyl wall graphics and murals as a quick, simple, and affordable way to totally change the atmosphere of the room.
Types of Wall Art You can Use Today
There are many graphic wall signage products you can use on your walls. Below are the most common types that we produce for customers.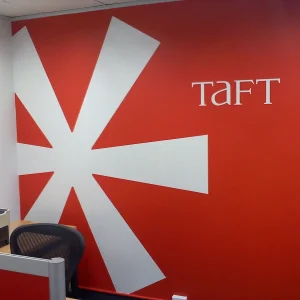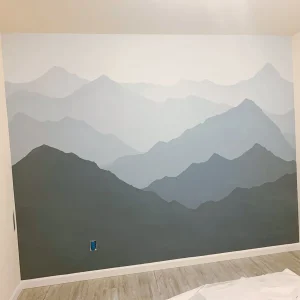 Printed Office Wall Murals and Graphic Wall Wraps
Wall murals, either printed on wallpaper or more commonly, vinyl media are a great way to transform your office and commercial space into something truly unique and wonderful. Combined with our lobby signs, wall murals can totally make the first impression count. We have helped businesses in Saskatoon with total makeovers of their spaces with the following being the end result.
Effective promotion of products and services to customers.
Communicating core company values to visitors.
Motivate and recognize employees by emphasizing outstanding performance and awards.
Designate specific areas for specific activities, such as meeting rooms, brainstorming areas, or event and production planning.
Use a timeline to share your company's history on a prominent wall in the office.
Make a one-of-a-kind setting for a restaurant, hotel, or other tourist-related business.
Using the right colours and images, you can evoke specific feelings and vibes.
Our modern wall mural art at Saskatoon Sign Company is professionally printed on quality vinyl to ensure the sharpest lines and brightest colour saturation. Our team will collaborate with you to design custom murals that reflect your branding objectives and your company's distinct personality. We'll also expertly install your wall art to prevent bubbling, creasing, or peeling, so you get the best possible result. We also have removable wall murals.
Custom Wall Decals and Large Wall Lettering
Saskatoon Sign Company designs and manufactures eye-catching and memorable custom wall decals for businesses in Saskatoon. Wall decals are a low-cost way to add branding and colour to your commercial space. Custom wall signs are versatile and affordable for use in a variety of settings, including retail stores and offices. Discover how our custom vinyl products can help you promote your brand, inform your audience, and improve the look of your interiors.

Our vinyl decal stickers are made with high-quality vinyl to ensure durability and impressive graphics and text. Our custom labels, posters, and vinyl lettering for walls can be applied to solid walls, glass, doors, and even floors. We will also use laminating film to prevent scuffs, abrasions, scratches, and discoloration if you require. Some of the best graphics for business ideas range from small peel and stick decals to full wall wraps. Some of the great reasons why businesses use wall decals are:
Liven up an important space
Brand the environment
Advertise products and services
Show off uniqueness and quirkiness of the brand
Wall lettering can be contour cut or printed on a larger colour vinyl sheet. When cut-out letters are applied to walls, they appear fully integrated with the existing paint or wall covering. We can also provide innovative solutions, such as vinyl applied to glass or acrylic backings that protrude from a wall. This allows for a more upscale appearance and feel, which is ideal for boutique stores and corporate offices.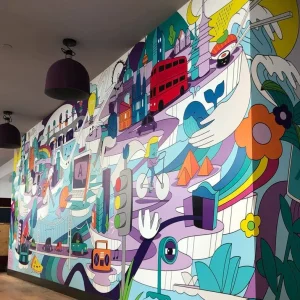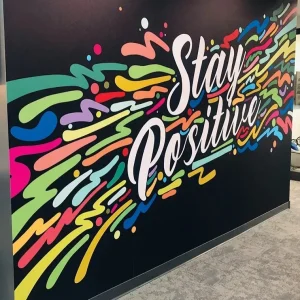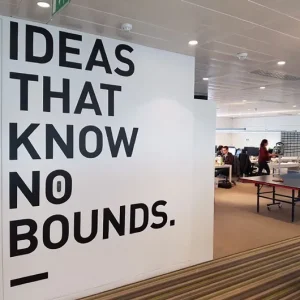 Expert Wall Mural Printers and Wall Wrap Installers
Do you want to impress your customers or motivate your employees? Transform your space with inspiring corporate wall murals tailored to your business in Saskatoon. Whether you're a health care facility looking to add some warmth and colour or a real estate office hoping to impress new clients, our wall graphics are sure to meet your business needs. Saskatoon Sign Company has the knowledge and experience to transform your walls into a communication tool that showcases your unique message while also contributing to your bottom line. If you are interested in other signs for your walls, check out our blade signage.